About HOPE
Helping Others Proceed Effectively (HOPE) is a community-based organization in Wilmington, NC with a focus on self-sufficiency, violence prevention, healing, and wellness, and specializes in needs assessment and coordination of community resources.
Meet HOPE's Founder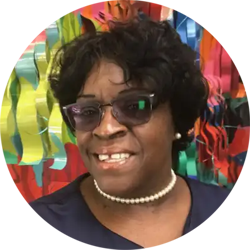 Brenda Galloway
Founder and Director
Brenda is a native of Wilmington,NC. Helping others has been a lifelong effort, handed down from generations. Her family was one of many in the city that provided services, resources, and trusted relationships with neighborhood families, businesses, and faith organizations.
In 2016, her work in the community was identified and funded, as it aligned with evidenced-based Community Health Worker (CHW) intervention.
Brenda is a retired hair stylist, still sharing tips and state board preparation to many.
"Servicing my community is in the fabric of my being."
HOPE's Partner Organizations
HOPE partners with other Community-Based Organizations (CBOs) to better serve the communities represented.
HOPE's Sponsor Organizations
The following organizations have provided HOPE with direct support.
Contact HOPE!